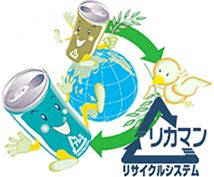 Joining forces with our customers and our suppliers, we have been working on various activities for creation of a recycling society such as collection and recycling of empty aluminum cans, empty beer bottles and other waste. These efforts have been appreciated, and we received the MOF (Ministry of Finance) Minister's Prize of the FY 2016 3Rs (Reduce, Reuse, and Recycle) Promotion Merit Awards.

The awards program has been held to recognize individuals, groups, schools, enterprises, and other entities for their outstanding levels of unique, community-based, and pioneering contributions to promoting the 3Rs (Reduce, Reuse, and Recycle).

In the first place we want to stop the littering of empty cans and other recyclable items; we want to focus in doing what we can to recycle as much as possible in a world with limited natural resources; we want to give our contribution in spreading the "recycle circle" and protect the Earth and our Lake Biwa which very close to us.